© Copyright – Encore Music Academy and Recording Studios / Out of the Blue Records (888295356350)
A compilation of sixteen holiday favorites, performed by children, ages 8 to 18. All proceeds from the sale of this album will benefit the Encore Music Education Foundation, Inc. and will help to provide merit-based scholarships and need-based subsidies to deserving music students.
---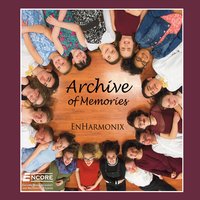 © Copyright – The Encore Enharmonix / Out of the Blue Records (888295601689)
These kids are amazing! From 8 to 18, they've got talent to spare! Little Big Shot meets America's Got Talent, with a touch of The Voice. In this, their second album, the Encore EnHarmonix have created a pop style all their own. From nine-year-olds Timothy, Mia, and Hannah, to eighteen-year-olds Siobhan, Emma, and Kathleen, these kids really know how to tame a tune. With three original songs on the album, all written and arranged by members of the group, it is easy to see the talented punch that these kids pack. There is a song on this album to appeal to every taste, from the sweeping and haunting harmonies of original title track, "Archive of Memories", to the upbeat and fun cover of "Best Day of My Life". Fun and flirty, gorgeous and richly layered, these arrangements are unique and well worth a listen, particularly when you realize that these are children with musical chops to beat the band!